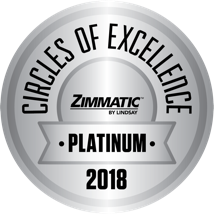 Basic Service Package
Whitewater Irrigation can provide a basic service package that includes pivot lubrication, pivot point drain, and checking the grounding of your machines. This package also provides gearbox servicing, seal and driveshaft cover inspections, and checking tire pressures. Sprinklers are evaluated for missing drops, leaking, worn or broken drops.
Advanced Service Package
Whitewater Irrigation offers an advanced service package that include the most coverage for your equipment. The package starts with visual inspection for any signs of stress, damage, and loose or missing components, checking the grounding of the machine to make sure it is adequate to protect both the equipment as well as your personnel, proper wiring and tightness of the wiring in the main panel,, and proper wiring, greasing pivot heads, cleaning collector ring brushes and rings, eliminating debris, and removing the drain at the bottom of the elbow riser.

The program further confirms proper operation of the pivot in both directions, inspection of tower joints and couplers, checking span cables, driveshaft covers & belts. Tower boxes, gearboxes, and centerdrives are fully evaluated. Additionally sprinklers are evaluated, and wheels and tires are inspected – lug nuts tightened as needed and tires checked for pressure.